V600-Posting
From Newsbin
Version 6 Help Page | Version 6 Bug Tracking | Beta Notes | V6 Beta Forum | Newsbin Beta Page
Even though NewsBin's focus is to download files from Usenet, it does support basic posting to Usenet. NewsBin will support posts:
To request a particular item be uploaded so that you can subsequently download it.
To report problems with a post you have downloaded
To post a binary file that someone else has requested. Note that Newsbin's facilities in this area are comparatively limited, and if you intend to upload any significant amount of binary data you are better off using a specialist uploader such as the (free) PowerPost A&A software
If you want to post to a newsgroup the first thing is to ensure that:
Your server allows this. Some servers only support downloading.
If your server does support posting, do you have to specifically request that your account be enabled for posting.
Posting to a Group
Here are step by step instructions for posting a new message to a newsgroup:
From the Groups tab, right-click on the group to which you want the message to be sent, and select the Post To Group option.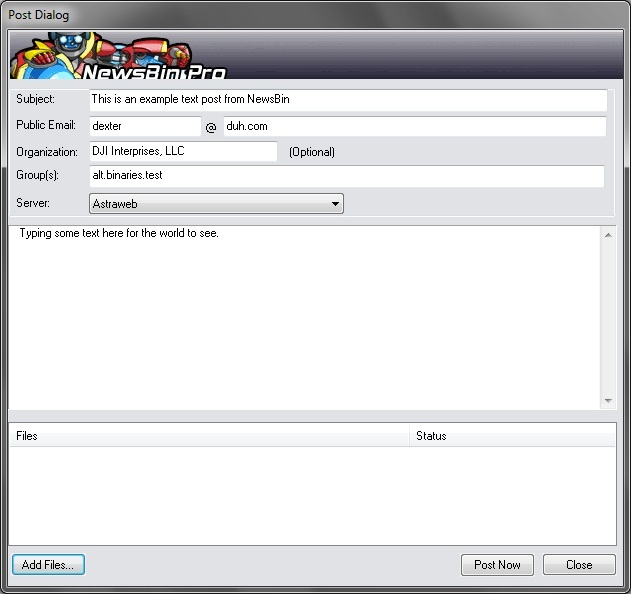 Fill in the Subject field with descriptive summary about the content of your post
Fill in the Public Email with a valid-looking email address. It doesn't have to be an actual email address and, probably shouldn't be unless you don't mind getting added to spam email lists.
Select the Server to post to in case you use multiple news servers.
If you want to post to more than one group, then list them separated by commas.
Click in the blank box below the Server field to type in the text message you wish to post.
If you want to attach a file, click the "Add Files..." button and select the file you wish to post.
Click the "Post Now" button to send your message.
To see your post, download the latest headers from the group you just posted to. It may not appear immediately depending on the server. If it is a text post, make sure you are not filtering out small posts, it'll probably show up as <1K in the size column.
Replying to a Post
From a post list, right-click a post and select Reply to Group. The same Post Dialog will come up as described above except the subject will be filled in with an "Re: " prepended to the subject of the post you are replying to.
Note: Newsbin does not support threading of posts - something that is typically supported by news readers that specialize in text posts.
Uploading Binary files
Note that it is illegal in most countries to upload copyrighted files unless you are the copyright owner
The Add files button on the Post dialog is used to add binary files to your post.
The binary file posting facilities in Newsbin are really only geared towards the occasional poster as they provide no control over the encoding process used, and no provision for retries if errors occur. As a result if you intend to post any significant amount of binary files it is strongly recommended that you use software optimized for this purpose. The software that is normally recommended for this purpose is the PowerPost A&A software that provides these sorts of facilities and much more.
Usenet Etiquette
If you intend to post to Usenet, it is recommended that you watch the group for a while to get a feel for how other people are posting. Some groups periodically post a newsgroup FAQ that outlines what is acceptable for the group. Usenet is not the most friendly place and posts that do not adhere to the groups style could be attacked or "Flamed". Each group may be a little different so it is best to lurk and and get to know the group first.